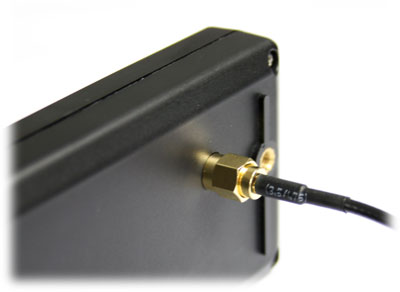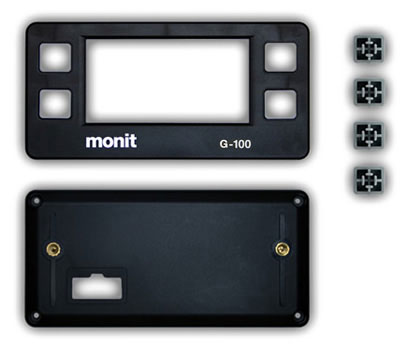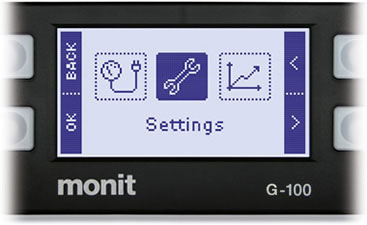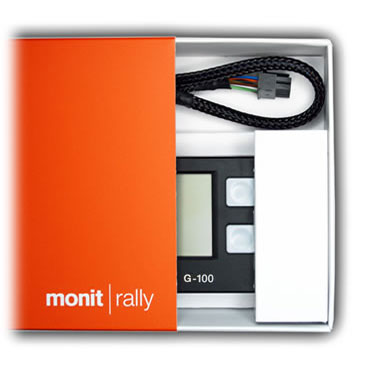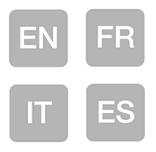 Integrated GPS+ receiver.
The high-sensitivity GPS receiver inside the G-100 is built right onto the main circuit board of the tripmeter. This tightly coupled design allows the GPS functions to be seamlessly integrated into the product, resulting in better performance and simpler operation compared to an external GPS speed sensor box.
To obtain the best reception possible the G-100 uses an external antenna attached through the SMA connector on the back of the device. A range of these are available to suit different installation requirements.
Sunlight viewable display.
Whether operating in total darkness or the midday sun, the high-quality graphics display presents important vehicle information with exceptional brightness and clarity. To achieve this the G-100 uses a high-contrast transflective liquid crystal display, coated with a special anti-glare film. An adjustable bright white LED backlight enhances readability in low light conditions and at night.
Road-proof, compact construction.
Strong enough to handle the roughest treatments, the Monit G-100 is built using the latest surface mount electronics technology and a strong polymer case. This highly integrated design reduces the number of internal connection wires, reducing the chance of short circuits and breakages. These features result in a reliable product that will deliver years of dependable operation, coupled with a compact design that allows easy placement on a vehicle dash, or storage in the glove box when not in use.
Simple menu system.
The device's graphical user interface works to make your life simpler and your work more efficient. Using clear on-screen instructions, adjusting settings and using advanced features is simple and intuitive. The large screen and menu based architecture eliminates the need for rows of buttons and complicated abbreviations that products with older technology are stuck using. With the Monit G-100 it's like having the operating manual built right into the unit.
Straight forward installation.
With Monit, ease-of-use starts the moment you open the box. Comprehensive instructions, a high quality wiring loom, and GPS+ technology, simplify wiring and reduces the potential for faulty installation.
A range of high-quality mounting brackets, speed sensors and accessories are also available to further aid installation into any vehicle.
International operation.
The G-100 can be user configured to operate in either English, French, Spanish or Italian. In addition, display units can be easily switched between miles and kilometres without requiring a re-calibration.